A Highlight of the Dedicated Men and Women of Flourtown Fire Company
Profile of Member Charlie Samtmann
Captain – Fire Police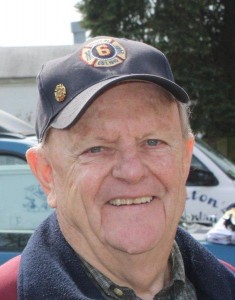 I have been a resident of Springfield Township for 79-years
I have been a member of Flourtown Fire Company for 45-years.
I have held the following positions in the fire company:
Captain – Fire Police
Firefighter
Engineer
Director
Recording Secretary
Family:
Married
Children: 3
Education:
Bachelor of Science Degree
Profession:
Health Care Administrator
Hobbies:
Gardening
Why did you join the FFCo?
To help those in need at the time of a fire. A civic duty.
My most memorable Flourtown Fire Company event, or fire is…
May, 1971 – W. Valley Green Road, as a fireman suddenly surrounded by fire on the second floor of a house fire as the air horns sounded to "get-out"!
What do you like the most about FFCo?
Its continuing effort to strive to be the very best.
How has Flourtown Fire Company, and the fire service in general changed since you first joined?
As methods of firefighting changed, so has the efforts of the company to meet the challenges of the changed methods. A lot has taken place in the way fires are fought, as well as the equipment that is now available. It all goes hand-in-hand.
The company has always made an effort to keep up with the changes in methods and equipment. A tribute to it being the best.